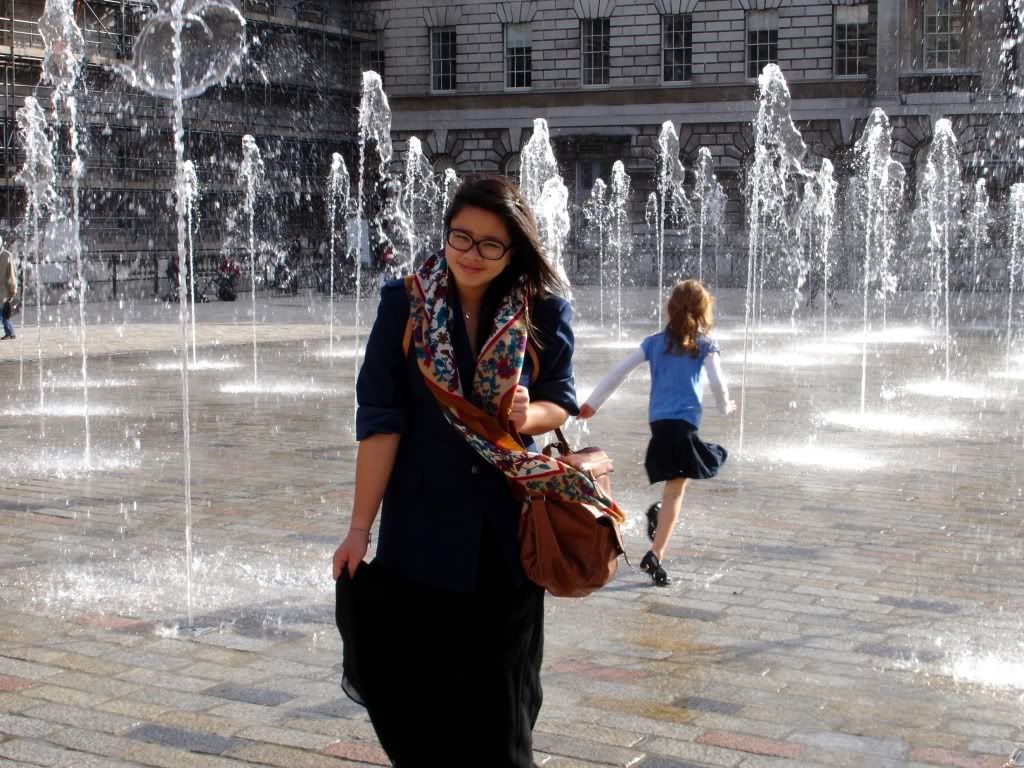 vintage blazer, scarf from my lovely nan, jigsaw maxi
Today I went to the Untold Noir launch
at the Somerset House. There were a few exhibitions, including one of a contemperary footwear and accessory designer (above), whose creations were a brilliant mix of edginess, randomness and unique imagination. I wasn't able to stay for the catwalk there because we got there pretty early, so instead we decided to explore London a little. And by that, I mean walking around aimlessly taking photos of anything I thought looked awesome. Kind of like a tourist. But not. Because I go up London nearly every weekend. I love it there.
We went to Southbank -I really love it there- , then Westminster, where there were street/free runners-not as extreme as jumping from rooftops of buildings, but extreme enough to leave me watching for a good 5 minutes saying 'wow, that's awesome' and 'zomg look at that!'. Me? easily amused? no way..
SO, after a few hours, the weather decided

-I personify 'weather' as an excuse not to be blamed for being unprepared for the rain-

to suddenly change its mind and not be sunny with the highest of 12, but to instead rain. So thanks weather for cutting my day short, and also for ruining my skirt.
I was pretty soaked and moody when I got home, and ripping my tights on the way in didn't really help either. However, flat hair and a pair of tights down, I came home to see that we had a clear out. And to me that only really means on thing. Ruuuuuummmaaaggggeee through things ;). And that I did.
I found some pretty rad stuff, including my plaster cast 'King Tut' mummy encased in a 'tomb' shoe box I made in year 3 and my dad's bow tie he wore for his wedding (probably will make an appearance in later outfit posts). I also found a load of my mum's old clothes and a vintage Givenchy necklace! *does happy 'Chandler dance'.*