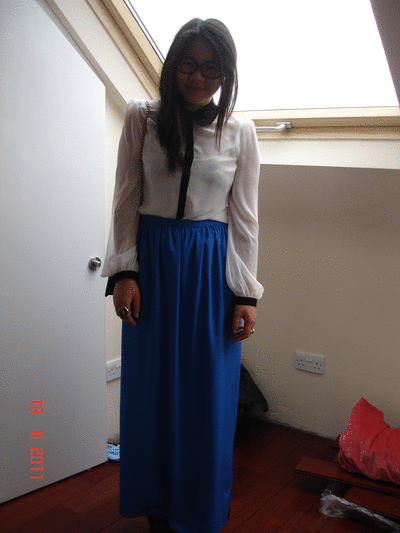 A few weeks ago I went to my auntie's wedding, and if there is anything I love it's a June wedding with sun, crisp breezes and-oh wait, no. It rained. However luckily we managed to squeeze in the outdoor photos inbetween the short spurts of rain. So typical of London weather to be sunny one minute then suddenly pour down with rain. For most of the day I was trying not go get the bottom of my skirt wet whilst also trying not to trip over it because the threads at the bottom kept getting caught on my shoes, which made it pretty hard to walk up the stairs fast enough to catch up with everyone else who were trying to get out the rain which was hard for me as I was in freaking 5 inch platforms. All in all it was a super day with great food, and 2 amazing cakes.
Lately I've been wearing blouses quite a lot, expecially when I'm at home I just throw on a blouse and wear them with rolled up jeans, in fact thats what I'm wearing right now. I found this top in debenhams when I was looking for a fathers day present. I don't usually shop there but I spotted this blouse from the other side of the shop floor and it caught my eye. I wasn't going to buy it, as it was about £30 which is a little expensive for me for a blouse, but I was shopping with my mum and she bought it for me! We don't usually shop together because I'm more of a lone shopper (I take ages in shops and spend ages deciding on whether to buy something or not so people usually have to wait for me), and it's easier to just shop on my own. I love the cute peter pan collar and the sleeves are puffy and awesome, however it's alway see through, so I had to wear a top underneath.
The other day I went to my cousin's for her 23rd birthday, she made so many cupcakes and they were SO GOOD, we had so many. Man it was like cupcake ecstasy.
Toodles sweets
xx